We're on the mend.  Well, they're on the mend.  I'm sick.  Thought I was getting better yesterday, but not so fast, says The Bug(s).  I never used to get sick like this.  Sore throat, etc.  Yech. 
J wanted to watch a movie from beginning to end last night, and we looked at what we had from Netflix:  27 Dresses (why? do I click these?), Nashville (J not an Altman fan -- really, I know.), so we watched Shortbus last night.   It couldn't have been a more unsuitable film for how I was feeling, though I still enjoyed it for its less corporeal elements, and it turns out that I know a couple of people who were in it.  It was kind of like when we went to see Y Tu Mama Tambien in the middle of some experimental ambulatory IV therapy I was doing.  Let me tell you, almost nothing can kill the mood like a bag of drugs hanging from a tube in your arm, so it was mostly about how happy we were for all those frolicking lovers on the screen finding true bliss; it just wasn't going to be any of the sort that we'd be experiencing anytime soon. 
I did an odd little thing that's circulating around the blogoshpere (Did I actually just write that?  I have a feeling I'm going to regret it.).  It's a service that claims to analyze your blog.  I guess you can't hide from your true nature, though some of the description makes me cringe and some of it really makes me laugh -- "not friends of many words?"  My clients would love that one.
ISFP - The Artists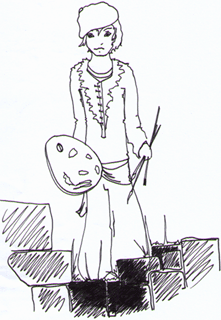 The gentle and compassionate type. They are especially attuned their inner values and what other people need. They are not friends of many words and tend to take the worries of the world on their shoulders. They tend to follow the path of least resistance and have to look out not to be taken advantage of.

They often prefer working quietly, behind the scene as a part of a team. They tend to value their friends and family above what they do for a living.
Analysis
This show what parts of the brain that were dominant during writing.

 
And all this time, I thought myself the brooding intellectual type.